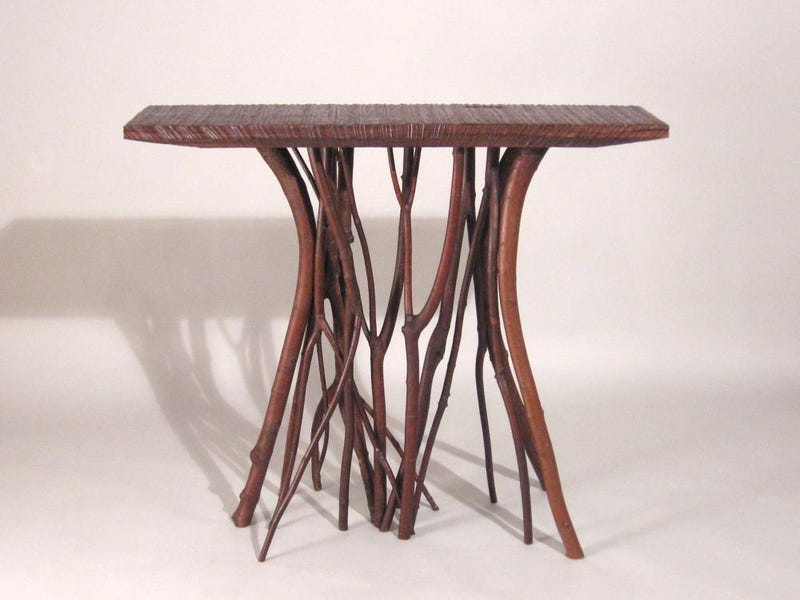 No, not The Weeknd, a weekend (December 5th & 6th actually). I took a rustic, branch furniture making class at the Center for Furniture Craftsmanship in Rockport, ME with artist/craftsman Wayne Hall. It was a great experience and well worth the $300 tuition (includes materials and use of any and all tools) for the weekend coarse. Above you see a table Wayne has made and below you can see the coffee/end table that I made!
The School

About an hour and a half north of Portland, the school is fairly accessible to the more populous areas of NH and Maine. My girlfriend and I decided to make it a little weekend getaway and found a moderately priced motel right on the water and about five minute drive from the school.
They offer weekend classes, 1-2 week workshops, 8-12 week intensives, 9 month comprehensives, and fellowship programs so there is probably something for anybody (adult anybodies at least).
The grounds were nice, facilities clean, and the people excellent. I look forward to taking some other classes there as well as repeating this one next year.
The Teacher
Wayne was extremely excited about all of our projects and a wealth of knowledge for anyone that asked. He makes his own art and furniture in addition to teaching at the University of Maine.
The Wood
So the first thing you'll need is wood. I know what you're saying ("you'll need tools first"), but hear me out. The branches/saplings will take about 2-3 weeks to dry from the time you cut them if you make a DIY kiln or about a year to dry if they're just placed inside. Cut enough in similar diameters of varying lengths and shapes (try to get some straight though) as how they dry will often dictate how they get used.