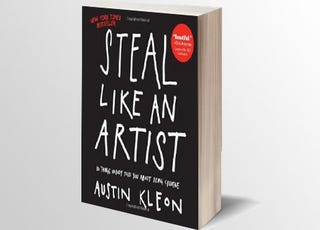 I downloaded Steal Like an Artist by Austin Kleon a few summers ago on a whim (and a free kindle download with Prime) and it made my whole concept of my hobbies make a little more sense. I read it in a couple of days (I'm a slow reader), but Kleon boils it all down to ten points which are conveniently available on the internet.
I realized I'd been doing a lot of these already and it was reassuring to know I was on the right track. Though that track might not lead me to greatness, I was becoming happier with what I was making and the process of getting there. So I'm going to walk you through how I got to be an amateur creator.
Music
My first hobby outside of sports was music. I got a guitar and before you knew it I was writing shitty pop punk songs, wearing tight jeans, and growing my hair out. If you weren't lucky enough to be forced to learn piano as a kid (I wasn't) you'll be behind in music theory. Here are some tips to help you catch up:
Learn how to play bass guitar. It's very similar to guitar but will make the music theory much clearer and give you a sense of rhythm.
Learn your scales. All the ones you can. If you're math minded like me you'll learn them by understanding why the notes are there. If you're not don't worry it'll just take more practice.
Learn to write. Chord structures, tablature, and full musical notation. I didn't learn this early enough and I spent a lot of time playing catch up.
Record often. It might sound like shit (it will), but it's important to hear yourself play removed from the act of performing.
I wasn't very good so I moved on to electronic music composition, dubstep, and mash-ups. I also had (still do) a few musical projects, including a few DIY PVC Blue Man Group instruments (but that's a story for another day). Anyways, I continued to create (with pirated versions of Fruity Loops and Garage Band) and created a lot of crap, but I got it in front of more people and made some stuff that I liked listening to. Is it any good? Decide for yourself, but I was happy:
Art
I always thought I was terrible at art, but it turns out I just didn't find my media right away. Now I know that I'm mediocre at art! I had some great teachers that made me feel comfortable making terrible art and encouraged me to keep going as far as I could take it. I didn't like drawing. I didn't like painting. I liked ceramics, but wasn't great at it. I loved printmaking. I lost touch with art for a while until I came back to it this summer with my pyrography. I was able to recreate pictures others had taken, steal ideas from other DIY projects, and produce something that doesn't entirely look like crap:
My tips:

Create often
Keep it cheap so there is less pressure to create a masterpiece
Writing
I like reading philosophy texts, Vonnegut, and strangely Jalopnik's Doug Demuro, so when I write I try to be as concise as possible (though I'm probably going on a bit long now) while being sarcastic and nerdy. A little bit of self-deprication never hurts too. Once again, write often and share it with a community you feel comfortable with. Some things to try:
Fan fiction
Share on ODeck's Thursday Tales (I think that's what it's called)
Read a lot in a variety of genres
Math and Science
Yes. I'm including it. Think about it, with all the other arts you practice imitation in order to eventually create something uniquely your own. In math we have proofs and creative manipulation of statistics. In science, experiments attempt to provide the same process in an attempt. Sure, "change the world" breakthroughs are hard to come by, but there is plenty of room for creative solutions to more menial problems. I spend some of my free time using math to create new metrics in sports and racing: