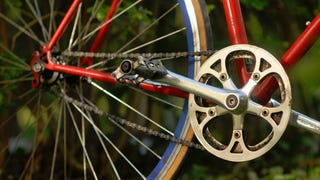 I have personally lost track of the number of pants that bicycle cranks have shredded, or at least branded irreparably with that dreaded chainring tattoo. Instead of securing your pant leg with a goofy elastic or wearing skinny jeans, however, you can simplify your bike's drivetrain and fashion a custom chain-guard by…
A little bit of history for you, on this day in 1884 Thomas Stevens became the first person to bicycle across the United States. There is a picture of him below looking dapper.
The trick to squeezing every last penny and mile out of a beater bike – that jalopy you ride every day and leave out in the rain – is to put in only the minimum time and effort required to keep it running adequately. In that spirit, here is a quick and dirty guide to greasing up and aligning your bike's wheel hubs.
Although restoring a rusty and abandoned bike is a worthy weekend project, a stuck or stubborn bottom bracket can derail your whole show. Throw enough WD-40, leverage, and a DIY tool at the problem, however, and you can get your bicycle project back on track.
There are all kinds of bikes you could ride in the city – and some which you shouldn't — but as far as a serious commuting rig is concerned, I think it boils down to the two types you can see above: vintage steel road bikes and hybrid bikes.
Over the last few years I have had many of my friends ask me how they should go about choosing the bike that would work for them, and while choosing a frame style will ultimately depend your individual personality and preferences this overview can at least give anyone a basic outline and a decent place to start if you…
The discussion from my post a few weeks ago on Getting Started had a lot of great information from the community on biking to work, and one of the most frequent items that kept popping up was Road ID®.