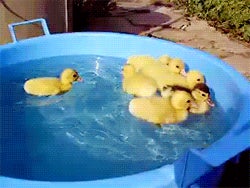 Hello lifehacker readers and welcome to the weekly open thread, hosted by Hackerspace 'cause Lifehacker is kind enough to allow it. Pull up a keyboard and tells us all about your lifehacking. Any cool projects just finished or planned? Want some advice on tech, woodbuilding, life or the universe? Stumbled on a cool idea? We want to hear it all.

This week on Hackerspace was much like any other. Elena discussed How millenials are changing the notion of work, How to manage offices remotely, and How to shoot cool videos. Elsewhere in kinja subblog land, TamTams asked people to share their favorite apps, Teapot requested household hacks (both do and don't), and Snacktastic rounded up bird themed crafts.

Hackerspace is a Lifehacker reader run subblog that's always looking for new writers. If you'd like to join Hackerspace (us!) and have been on lifehacker or kinja long enough that you at least recognize Elena, read the guide and then let us know in the comments.
[image via giphy]