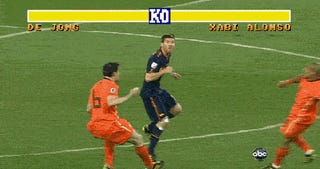 The World Cup starts tomorrow, and for the first time since 1994, it will be held in the same time zones as most of the United States. Up to four games a day will be broadcast across eight TV networks in three languages, in addition to being streamed live by the media giants that own the TV rights. It can be confusing to figure out who has the rights to show what and which streams are available to people who don't have a cable subscription, so I thought I would write a guide.
Television
ABC, which owns ESPN, has exclusive rights to show English-language broadcasts in the US. Every game will be shown live on one of ABC, ESPN, and ESPN2, but the bulk (43 of 64) will be on ESPN1, which means that unless you have cable, you won't be watching many games on TV in English.
Here's the good news: Univision (which is over the air) will broadcast nearly every game in Spanish. The only exceptions are those games on the third matchday that kick off at the same time (all teams in the same group play concurrently to ensure that no one has an advantage). Obviously, a channel can't show two games at the same time, so Univision will also air games on its sister network Galavision, which is also free over the air. The problem is that only 60% of US households have it. If you have cable, you don't need to worry because every game on Univision will also be on Univision Deportes and every game on Galavision will also be on UniMas.
ESPN Deportes, normally a Spanish-language channel, will broadcast games in Portuguese.
Streaming (web and mobile apps)
Radio
I don't want to go into too much detail here, but suffice it to say, every game will be broadcast in English by ESPN Radio and you'll be able to listen to them on the web or on mobile apps. You can find a list of local stations that carry ESPN Radio here.
I sincerely hope that you find this guide useful. This is my first real post on Hackerspace (I previously hosted an open thread), and I should've done it a long time ago having enjoyed thoughtful submissions by BrokeinMileEnd, story645, sugarhill, and former Supreme Commander huh989 for months without contributing anything but comments (mostly bad jokes). This is a great little corner of the interweb that does not get the love or attention it deserves.
If you're watching the World Cup for the first time, just know that soccer is a game where 22 men chase a ball for 90 minutes and at the end the Germans win (except in 2010, 2006, 2002, 1998, 1994, 1986, 1982, 1978, 1970, 1966, 1962, 1958, 1950, 1938, 1934, and 1930, but never mind, it's too good of a quote not to share).